17 SUSTAINABLE DEVELOPMENT GOALS
The United Nations Sustainable Development Goals (SDG Goals) are the blueprint to achieve a better and more sustainable future for all.
They address the global challenges we face, including those related to poverty, inequality, climate, environmental degradation, prosperity, and peace and justice. The Goals interconnect and the aim is to achieve each Goal and target by 2030.
HOW DOES IDEA MANAGEMENT DRIVE RESULTS?
When you involve the right people, in the right process, at the right time, ideas shared become problem solved.
To achieve these shared global objectives, why not ask your employees, ecosystem or customers?

Our idea management platform enables you to capture, evaluate, improve and implement ideas from within your business and beyond. A global home for ideas can solve global issues and save the world.
ARE YOU STRUGGLING TO BUILD SUSTAINABLE THINKING INTO YOUR DECISION MAKING?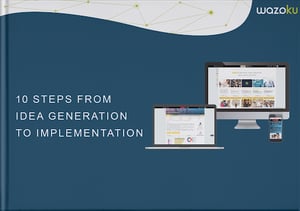 Once you've come up with new sustainable initiatives how are you ensuring they are implemented, and more importantly successful and embedded in your organisation?
Our ebook: 10 steps from idea generation to implementation outlines a process of what to do with your ideas once you have them, including idea selection, analysis, growth and strategy planning.